Dental Implants Restore Health, Function, and Appearance
Patients who are missing teeth often become embarrassed or self-conscious about their appearance. In addition to detracting from your smile, though, tooth loss can have a negative impact on your oral health and function. Dental implants are one of the most popular and longest-lasting teeth replacement solutions.
Dr. Thomas W. Hodge places and restores implants for personalized, streamlined treatment. Patients who are considering dental implants can schedule a complimentary consultation at our Batesville, MS, practice.
About Dental Implants
An implant is an artificial tooth root made of medical-grade titanium that is threaded into the jaw. When you lose a tooth, an implant can be surgically inserted into the jawbone to replace the missing root. Once the implant heals and fuses with the surrounding bone, it can be restored with a dental crown, bridge, or other restoration.
Benefits of Dental Implants
Implants offer a wide range of advantages. Some of the most notable ones include:
Improved appearance: Implants are designed to look and feel like your natural teeth. With the advanced materials used for restorations, your artificial tooth can be virtually indistinguishable from the rest of your smile.
Durability: Implants are strong and resilient. In fact, with proper care and maintenance, they can last a lifetime. In comparison, traditionally-placed dental bridges typically last between five and 15 years on average.
Better oral health: No other restoration restores the root of a missing tooth. Because implants stimulate nerves in the jawbone in the same way that your natural teeth do, they help preserve existing bone and prevent future bone degradation.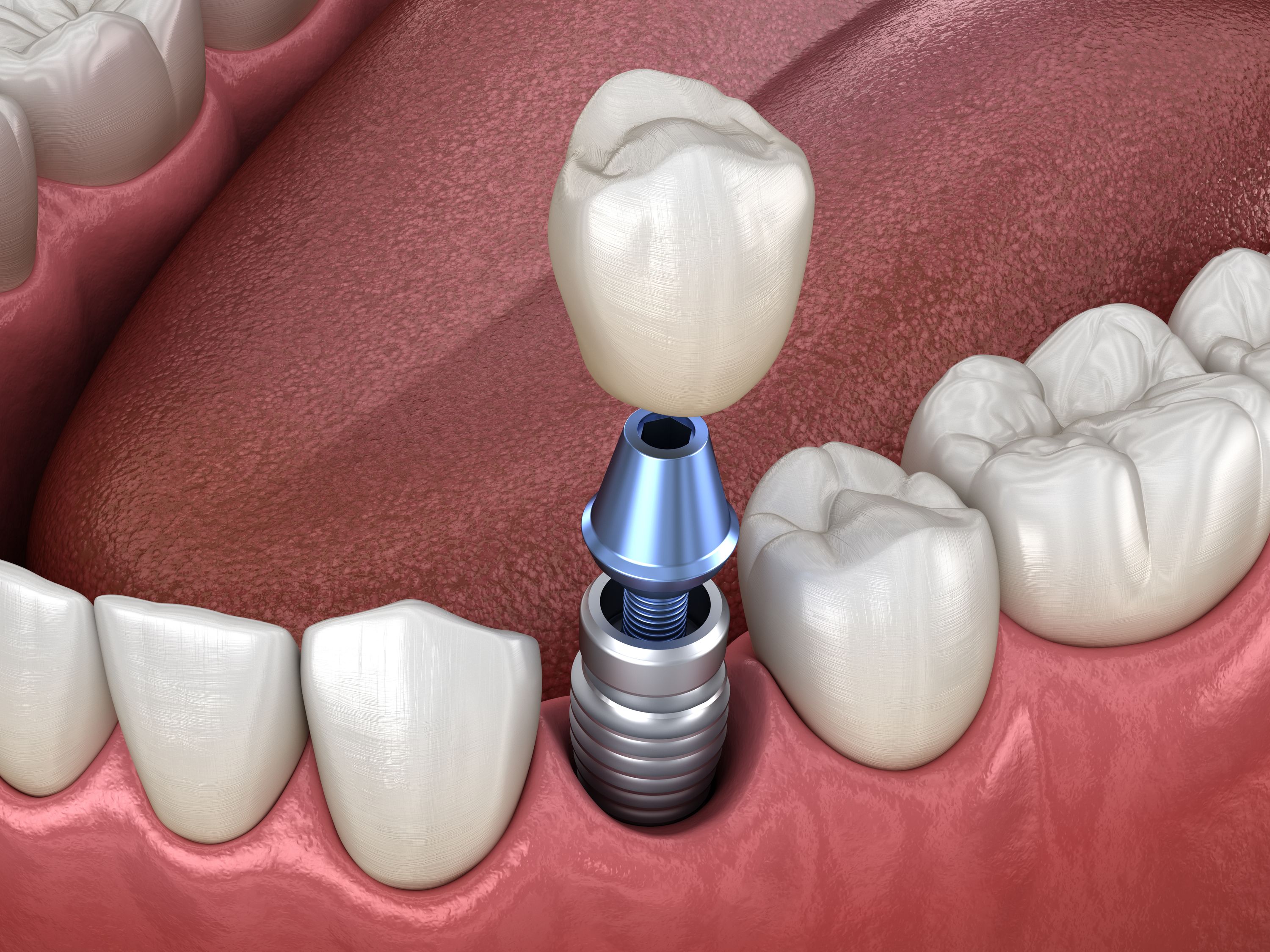 Am I a Candidate?
To qualify for dental implants, patients must have enough healthy bone tissue in their jaw to anchor an implant. Furthermore, there should be no signs of gum disease, extensive decay, or other serious oral health problems. If Dr. Hodge diagnoses you with any of these conditions, he will likely recommend undergoing a number of restorative procedures prior to implant surgery, such as treatment for gum disease or bone grafting.
Treatment Timeline
For those considering implants, the first step is to see Dr. Hodge for a consultation at our Batesville practice. In addition to a visual assessment, he will also take scans and x-rays to evaluate the density of your jawbone.
If Dr. Hodge determines you are a candidate, we will schedule you for your implant surgery and any necessary preparatory procedures. On the day of the surgery, he will first administer local anesthesia to numb the gum tissue. Once you are comfortable, a small incision is made in the gum tissue. Dr. Hodge uses special dental instruments to create a hole in the jawbone and place the implant.
After the surgery, it takes four to six months for the implant to heal. During this time, the natural bone tissue fuses with the implant. This process is known as osseointegration and is essential for the long-term stability of your implant. Once the implant has fully fused with the bone, an abutment can be added. This small connector post extends just beyond the gum line, serving as an anchor for your restoration. While the abutment can be placed without surgery in many cases, some patients may require a second, minor procedure. If this step is required, you will need to wait several more weeks before scheduling the appointment to place the final restoration.
Recovery and Aftercare
Even though the implant will continue to heal for a few months, most patients are comfortable within the first two to three days after surgery. Any discomfort or swelling can be managed with medication and cold compresses. You should eat a soft food diet and avoid strenuous activity for at least 48 hours after the procedure.
All patients are provided with a detailed list of post-surgical guidelines. These should be followed closely to ensure a comfortable, successful recovery.